BioCity is home to some of the UK's biggest firms producing innovative technology and medicines.
So a circular knitting machine housed at the site may, at first, seem a little out of place.
But this product, owned by Nottingham firm Footfalls and Heartbeats, is actually producing socks and shoe uppers which could one day be used to help create the perfect boots for top flight football players.
The machine knits the products within 14 minutes and pressure sensors are stitched directly into the product.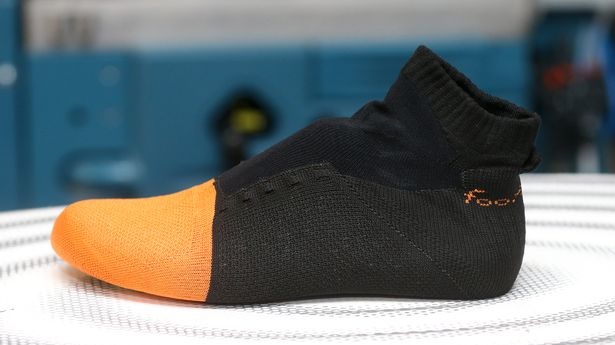 Nottingham's history is entwined with yarn and knitting. In the 16th Century, a Nottingham-born resident, Reverend William Lee, invented the knitting machine.
Now, almost 430 years later, Footfalls & Heartbeats (UK) Limited, based in the Ingenuity Centre at the University of Nottingham, is pioneering a truly innovative process for the manufacturing of smart knitted fabric.
Investment from the MEIF will be used for continued development of product prototypes with several world leading commercial partners in the fields of healthcare and sports.
Footfalls will also continue to develop its intellectual property, as well as purchase additional production equipment.
"These are exciting times and we are delighted to have Foresight's backing. With their investment we can move forward with our plans to bring more prototyping in-house with the purchase of a bespoke, one-of-a-kind, knitting machine and the employment of additional staff to join the existing, multidisciplinary team. This investment will allow Footfalls to deliver the various development agreements in shorter time frames. It will also help us to achieve our patent and commercial licensing goals."
Textile Biophilia - Exploring the future of biology and technology in the field of textiles
Footfalls & Heartbeats show off Pulse Tex at the Textile Biophilia Exhibition at Nottingham's Broadway Gallery. Pulse Tex monitors patients heart rate using optical fibre light integrated in a textile sleeve worn on the wrist.
The exhibition was shown between Feb 16th - Feb 24th 2019 in collaboration with Giulia Tomasello - A Research Assistant in Interactive Wearables from Nottingham Trent University specialised in wearables, biotechnology, and material finishes.
I stand before you a Kiwi. It is the country of my birth and it will always be my home.
The unspeakable horrors of last Friday in Christchurch have been well documented and disseminated. I cannot even imagine the horror of that day or the overwhelming grief suffered by my brothers and sisters.
I will always be your brother...
The First True Intelligent Textile
You hear a lot about the internet of things and all of these smart devices but did you ever think we would have smart clothes? That's exactly what Simon McMaster and his team at Footfalls & Heartbeats have created. After many years of research and development, Simon finally had proof of concept but that was only part of the journey. Simon and his team at Footfalls & Heartbeats have developed a revolutionary manufacturing process to create smart textiles. As you will hear in this interview, this was no overnight success.
It's companies like Footfalls & Heartbeats that are accelerating our technology in amazing ways. Clearly, the Footfalls & Heartbeats team is going to continue pushing the boundaries of what is possible.
Original Thought
As a company founder I wanted to write about an amazing example of creating and using original thought. Yesterday I attended a symposium on "Advanced Textiles for Healthcare and Well-being" at the Royal College of Art In London as my colleague Dr. Fern Kelly was presenting our technology.
Put simply it was one of the most inspiring days of my life. Not only was my colleague amazing, erudite and compelling all the other presentations showed how textiles can be used to promote health and well-being in interesting and challenging ways. In particular the presence of "original thought" in this room of talented individuals was extraordinary. The leadership shown by the academics at the RCA is exemplary. They have created an atmosphere where failure and knowledge go hand in hand. This empowers the students to be brave and follow their fields of interest with courage, conviction and a quite breath-taking level of originality.
The exacting environment created by Anne Toomey, Marie O'Mahony and their colleagues is world-class. "Original thought" is paramount to innovation and inspiration. The approach by the postgraduate students to complex health issues was both intuitive and disruptive. Intuitive in using textiles as the substrate to interact with, and disruptive in creating a use for clothing and fabric that subverts the normal pretext of clothing as protection.
Thank you all for the inspiration, enlightenment and intellectual rigour. The future of smart textiles is in good hands and really smart brains.
Research Paper Published
Our amazing Dr. Cristina Isaia has done an outstanding job helping characterise our knitted sensors.
Published in the Textile Research Journal in 2018 - "Effect of mechanical preconditioning on the electrical properties of knitted conductive textiles during cyclic loading" is a very important step forward to getting these knitted sensors production ready.
Technology Transfer - Footfalls Collaborate with The University of Nottingham
Professor Chris Tuck, Faculty Director of Impact and Knowledge Exchange, Faculty of Engineering:
"Our Innovation and Impact Manager Dr Jon Collett, works between the Faculty and the central Intellectual Property Commercialisation Office. During 2016/17 the following Technology Transfer successes were celebrated:
In July 2017, Build Test Solutions Ltd licensed the patented pulse test technology for testing building air-tightness, led by Dr Christopher Wood and Professor Mark Gillott.
Footfalls and Heartbeats (UK) Ltd are collaborating with the University under a unique licensing model, and are working with Professor Stephen Morgan to develop novel optical sensors for textiles. Professor Morgan has received a Royal Society fellowship for a secondment with the company to further progress the commercialisation of the technology.
Monica Healthcare Ltd, a spin-out based on Technology developed by Professor Barrie Hayes- Gill and Professor John Crowe, was acquired by GE healthcare. This represents a tremendous success for the Monica team. The GE acquisition will ensure that Monica Healthcare's innovative products, based on technology developed by the University of Nottingham, can be distributed widely, benefitting thousands of expectant mothers across the world."
Faculty of Engineering Research & knowledge Exchange Brochure 2018- extract
The Power of Women – A Founder's Perspective
Footfalls and Heartbeats (UK) Limited has grown our team over the last 18 months and as Founder (and a really old git) I wanted to share my thoughts about the influence of women on our company and our workplace.
This piece is primarily written as a heartfelt thank you to the three women below. As Footfalls has expanded the humanity, "brains", compassion, rigour and influence of these three has been nothing short of extraordinary.
Sue, as we grew the company in the UK was always there to assist me practically and emotionally. Her organisational skills and calming words on many occasions provided a solid foundation on which to build Footfalls.
Fern has become my "right-hand" person if I need to be that PC. The woman is a marvel, smart, funny, studious and willing to assist and direct in all circumstances. Her analytical mind serves as a great counter to my sometimes "scattered" brain. The clients we interact with have all noticed Fern's influence.
And finally to Tegan, who worked as an intern over the summer months. Tegan, whilst being Australian (not necessarily her fault) is possibly one of the most extraordinary people I have met. Exceptionally smart, compassionate and talented, Tegan turned her hand to sewing samples as well as explaining complex mathematical problems to the village idiot (me).
None of these short bios does any justice to these women, however I hope in some way it allows recognition of your influence on how we continue to grow and operate as a company. I will forever be in your debt for contributing such honesty, integrity and practical advice. As a Founder I would like to unequivocally state that Footfalls is a much better company for the presence and influence of such talented individuals. If only one point is taken from this short piece, it is teams need to be diverse, talented, compassionate and focused and women add all those qualities and many more intangible gifts to all of the most successful organisations.
I am forever in your debt.
Simon McMaster
BBC Radio Nottingham Talk To Footfalls & Heartbeats About Smart Fabrics
BBC Radio Nottingham interviewed Simon McMaster, Founder of Footfalls & Heartbeats, to find out more about how smart fabric is being developed to help people.
Simon says his aim is to use science to make everyone's life better, not just those with money. He says, "Smart fabric is something that contains some sort of sensor that allows you to measure the environmental stuff around you and/or the vital science from your body, such as heart rate and respiration. Our aim is to develop smart fabrics that will help prevent injuries and health problems, which will minimise the number of people needing to go to hospital."
Simon talks about what inspired him to set up Footfalls & Heartbeats and mentions some of the projects the team is working on.
Changing the world for the better through science
"My dream is to "change the world", to allow science to make lives better and by making them better to unleash the potential that lives within all souls".
These are the words of Simon McMaster, the Founding Scientist of Footfalls & Heartbeats (UK) Limited. Simon is an expert in smart textile structures and the nano-scale interactions that govern the movement of these micro mechanical structures.
Smart Textiles: Mighty oaks from little acorns grow
The global market for the application of smart fabrics and intelligent textiles is rapidly growing. In fact, it is expected to reach around US$ 2 billion by 2018, according to Statista, a leading online statistics portal. This growth is being driven by mega-trends such as an ageing population and increasing rates of obesity, diabetes and other related health conditions.
Footfalls & Heartbeats (UK) Limited is one of the companies helping to drive growth. The team has developed a revolutionary and proprietary process for manufacturing smart fabric, which uses nano-scale interactions within the textile to make the fabric itself the sensor.
Improving Compression Therapy
Earlier this year, Footfalls & Heartbeats (UK) Limited was commissioned to undertake a project for a world leading manufacturer of bandages and fabrics, to monitor the success of compression therapy.
During a 6-month project, Footfalls & Heartbeats will develop the manufacturing process for a smart bandage that will transform the treatment for patients suffering with venous leg ulcers and needing compression therapy.
Compression therapy helps to reactivate the main venous system, an integral part of the cardiovascular system, to ensure veins are emptied and blood continues to circulate back to the heart.
Venous leg ulcers are estimated to affect around 1 in 500 people in the UK alone, although they become much more common with age and it's estimated that around 1 in 50 people over the age of 80 has one. It's often treated with compression therapy but it's currently quite difficult for medics to monitor the level of compression required.
Footfalls & Heartbeats is developing a bandage that can measure the level of pressure applied and convey information to medical staff to ensure correct application techniques. The technology brings a new level of sophistication to smart textiles through the integration of smart fibres into the textile structure.